7.5KW-100KW Off Grid Single Phase Inverter

Power Frequency Pure Sine Wave Inverter Features:
l Complete isolation-type inverter technology, noiseless output.
l Adoption of advanced SPWM technology, pure sine wave output.
l Dynamic current loop control technology to ensure inverter reliable operation.
l Wide DC input voltage range.
l Excellent EMC design.
l Low output harmonic distortion (THD≤3%).
l LED indicators for input voltage range, load power range, normal output & failure state.
l Optional energy saving mode.
l Extensive protections: reverse polarity, short-circuit, overload, under/over input voltage, over-temperature, and inverter's inner fault identification protections.
l Wide working temperature range (industrial level).
l Continuous operation at full power.
Application
○ For desolate area like mountain, island, pasturing area, etc.
○ For transportation system like beacon light, traffic light, street light, etc.
○ For communication system: unattached operation microwave middle station, optical
cable maintenance station, etc.
○ For solar power station, wind-solar power station, park charging station, family power house, factory power station, etc.
○ For solar building: has good business future.
○ For the new technology application project.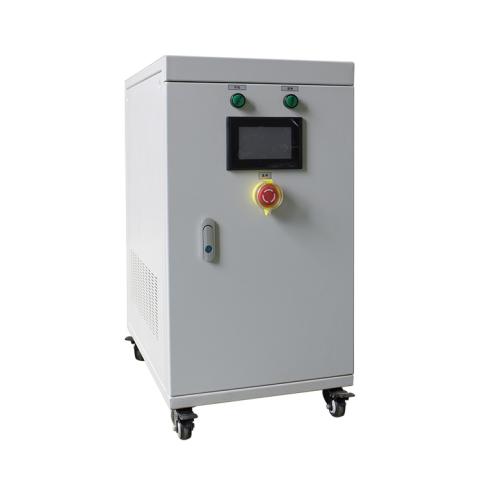 7.5KVA off grid single phase inverter technical parameters
Model

NB48-7.5KDZ

NB96-7.5KDZ

NB110-7.5KDZ

NB220-7.5KDZ

DC

input

Input rated voltage

48 VDC

96 VDC

110 VDC

220 VDC

Input rated current

173.6A

86.8A

75.8A

37.9A

Input DC voltage allowing range

40-62 VDC

80-124 VDC

90-140 VDC

180-280 VDC

AC input

(AC bypass)

Allow input voltage range

110 VAC / 120 VAC / 220 VAC / 240 VAC ± 15%

Input rated current

68A / 62.5A / 34A /31A

Bypass transfer time

≤40 ms (4ms optional)

AC output

Output rated power

7.5KVA

Output rated voltage and frequency

110 VAC / 120 VAC / 220 VAC / 240 VAC,50Hz / 60Hz

Output rated current

68A / 62.5A / 34A / 31A

Output voltage accuracy

110 VAC / 120 VAC / 220 VAC / 240 VAC± 2%

Output frequency accuracy

50Hz / 60Hz ± 0.05%

Wave

Pure sine wave (Isolation transformer)

THD.

Power factor (PF)

0.8

Overload capacity

120%,10 minutes

Over-current capacity

200%,10 seconds

Crest factor (CF)

3:1

Inverter efficiency

>90%

Working Environment

Dielectric strength

1500VAC,1minute

Noise (1m)

≤50dB

Ambient temperature

-10℃~+50℃

Humidity

0~90%, No condensation

Altitude

<2000m

Higher than 2000m rated power should be reduced

Production function

Input reverse protection, input under-voltage protection, output overload protection, output short circuit protection, thermal protection

Communication interface

RS485/WIFI/GPRS/Ethernet (optional)

Equipped With Copper Transformer

Yes

Solar Charger

Optional

AC Charger

Optional

Generator Port

Optional

Size

560*780*950 mm

Weight

110 kg
10KVA off grid single phase inverter technical parameters
Model

NB48-10KDZ

NB96-10KDZ

NB110-10KDZ

NB220-10KDZ

DC input

Input rated voltage

48 VDC

96 VDC

110 VDC

220 VDC

Input rated current

231.5 A

115.7 A

101A

50.5 A

Input DC voltage allowing range

40-62 VDC

80-124 VDC

90-140 VDC

180-280 VDC

AC input

(AC bypass)

Allow input voltage range

110 VAC / 120 VAC / 220 VAC / 240 VAC ± 15%

Input rated current

91A / 104A / 45.5 A / 42A

Bypass transfer time

≤40 ms (4ms optional)

AC output

Output rated power

10KVA

Output rated voltage and frequency

110 VAC / 120 VAC / 220 VAC / 240 VAC,50Hz / 60Hz

Output rated current

91A / 104A / 45.5 A /42A

Output voltage accuracy

110 VAC / 120 VAC / 220 VAC / 240 VAC± 2%

Output frequency accuracy

50Hz / 60Hz ± 0.05%

Wave

Pure sine wave (Isolation transformer)

THD.

≤3%(Linear load)

Power factor (PF)

0.8

Overload capacity

120%,10 minutes

Over-current capacity

200%,10 seconds

Crest factor (CF)

3:1

Inverter efficiency

>90%

Working Environment

Dielectric strength

1500VAC,1minute

Noise (1m)

≤50dB

Ambient temperature

-10℃~+50℃

Humidity

0~90%,No condensation

Altitude

<2000m

Higher than 2000m rated power should be reduced

Production function

Input reverse protection, input under-voltage protection, output overload protection, output short circuit protection, thermal protection

Communication interface

RS485/WIFI/GPRS/Ethernet (optional)

Equipped With Copper Transformer

Yes

Solar Charger

Optional

AC Charger

Optional

Generator Port

Optional

Size

520*780*950 mm

Weight

110 kg
15KVA off grid single phase inverter technical parameters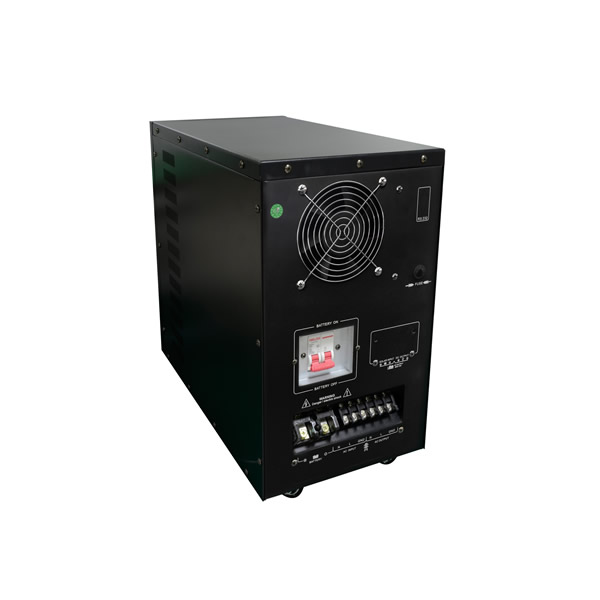 Model

NB48-15KDZ

NB96-15KDZ

NB110-15KDZ

NB220-15KDZ

DC input

Input rated voltage

48 VDC

96 VDC

110 VDC

220 VDC

Input rated current

347 A

173.6 A

151 A

75.8A

Input DC voltage allowing range

40-62 VDC

80-124 VDC

90-140 VDC

180-280 VDC

AC input

(AC bypass)

Allow input voltage range

110 VAC / 120 VAC / 220 VAC / 240 VAC ± 15%

Input rated current

136A / 125A / 68A / 62.5A

Bypass transfer time

≤40 ms (4ms optional)

AC output

Output rated power

15KVA

Output rated voltage and frequency

110 VAC / 120 VAC / 220 VAC / 240 VAC,50Hz / 60Hz

Output rated current

136A / 125A / 68A / 62.5A

Output voltage accuracy

110 VAC / 120 VAC / 220 VAC / 240 VAC± 2%

Output frequency accuracy

50Hz / 60Hz ± 0.05%

Wave

Pure sine wave (Isolation transformer)

THD.

≤3%(Linear load)

Power factor (PF)

0.8

Overload capacity

120%,10 minutes

Over-current capacity

200%,10 seconds

Crest factor (CF)

3:1

Inverter efficiency

>90%

Working Environment

Dielectric strength

1500VAC,1minute

Noise (1m)

≤50dB

Ambient temperature

-10℃~+50℃

Humidity

0~90%, No condensation

Altitude

<2000m

Higher than 2000m rated power should be reduced

Production function

Input reverse protection, input under-voltage protection, output

overload protection, output short circuit protection, thermal protection

Communication interface

RS485/WIFI/GPRS/Ethernet (optional)

Equipped With Copper Transformer

Yes

Solar Charger

Optional

AC Charger

Optional

Generator Port

Optional

Size

570*1020*1200 mm

Weight

210 kg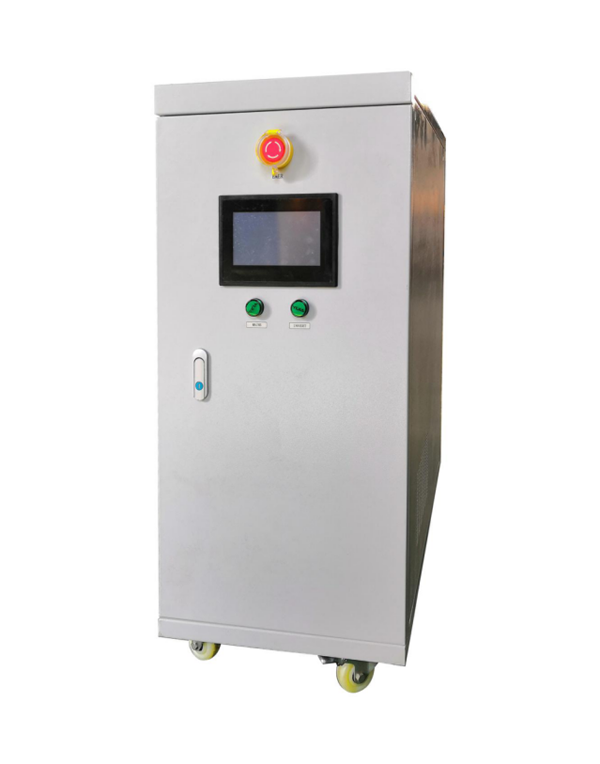 20KVA off grid single phase inverter technical parameters
Model

NB96-20KDZ

NB110-20KDZ

NB220-20KDZ

DC input

Input rated voltage

96 VDC

110 VDC

220 VDC

Input rated current

231.5 A

202 A

101 A

Input DC voltage allowing range

80-124 VDC

90-140 VDC

180-280 VDC

AC input

(AC bypass)

Allow input voltage range

110 VAC / 120 VAC / 220 VAC / 240 VAC ± 15%

Input rated current

182A / 167A / 91 A / 83A

Bypass transfer time

≤40 ms (4ms optional)

AC output

Output rated power

20KVA

Output rated voltage and frequency

110 VAC / 120 VAC / 220 VAC / 240 VAC,50Hz / 60Hz

Output rated current

182A / 167A / 91 A / 83A

Output voltage accuracy

110 VAC / 120 VAC / 220 VAC / 240 VAC± 2%

Output frequency accuracy

50Hz / 60Hz ± 0.05%

Wave

Pure sine wave (Isolation transformer)

THD.

≤3%(Linear load)

Power factor (PF)

0.8

Overload capacity

120%,10 minutes

Over-current capacity

200%,10 seconds

Crest factor (CF)

3:1

Inverter efficiency

>90%

Working Environment

Dielectric strength

1500VAC,1minute

Noise (1m)

≤50dB

Ambient temperature

-10℃~+50℃

Humidity

0~90%, No condensation

Altitude

<2000m

Higher than 2000m rated power should be reduced

Production function

Input reverse protection, input under-voltage protection, output overload protection, output short circuit protection, thermal protection

Communication interface

RS485/WIFI/GPRS/Ethernet (optional)

Equipped With Copper Transformer

Yes

Solar Charger

Optional

AC Charger

Optional

Generator Port

Optional

Size

620*1040*1100 mm

Weight

220 Kg
30KVA off grid single phase inverter technical parameters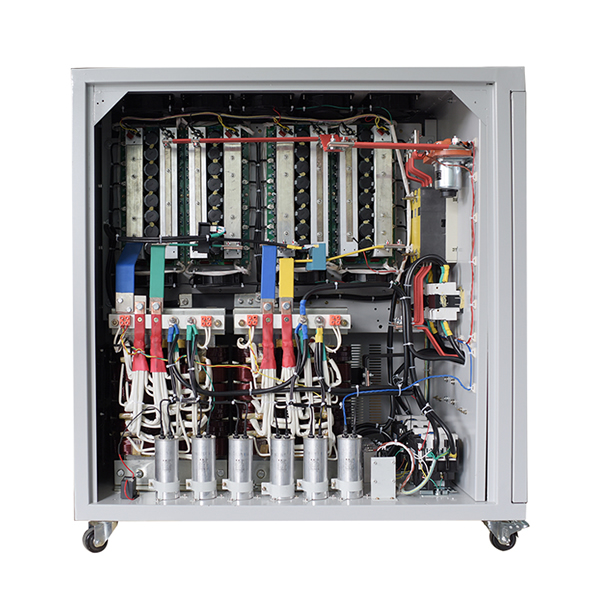 Model

NB110-30KDZ

NB220-30KDZ

NB380-30KDZ

DC

input

Input rated voltage

110 VDC

220 VDC

380 VDC

Input rated current

303A

151.5 A

87.7A

Input DC voltage allowing range

90- 140VDC

180-280 VDC

320-500VDC

AC input

(AC bypass)

Allow input voltage range

110 VAC / 120 VAC / 220 VAC / 240 VAC ± 15%

Input rated current

272A / 250A / 136 A /125A

Bypass transfer time

≤40 ms (4ms optional)

AC output

Rated capacity

30KVA

Output rated voltage and frequency

110 VAC / 120 VAC / 220 VAC / 240 VAC,50Hz / 60Hz

Output rated current

272A / 250A / 136 A /125A

Output voltage accuracy

110 VAC / 120 VAC / 220 VAC / 240 VAC± 2%

Output frequency accuracy

50Hz / 60Hz ± 0.05%

Wave

Pure sine wave (Isolation transformer)

THD.

≤3%(Linear load)

Power factor (PF)

0.8

Overload capacity

120%,10 minutes

Over-current capacity

200%,10 seconds

Crest factor (CF)

3:1

Inverter efficiency

>92%

Working Environment

Dielectric strength

1500VAC,1minute

Noise (1m)

≤50dB

Ambient temperature

-10℃~+50℃

Humidity

0~90%, No condensation

Altitude

<2000m

Higher than 2000m rated power should be reduced

Production function

Input reverse protection, input under-voltage protection, output overload protection, output short circuit protection, thermal protection

Communication interface

RS485/WIFI/GPRS/Ethernet (optional)

Equipped With Copper Transformer

Yes

Solar Charger

Optional

AC Charger

Optional

Generator Port

Optional

Size

630*1000*1430 mm

Weight

295 Kg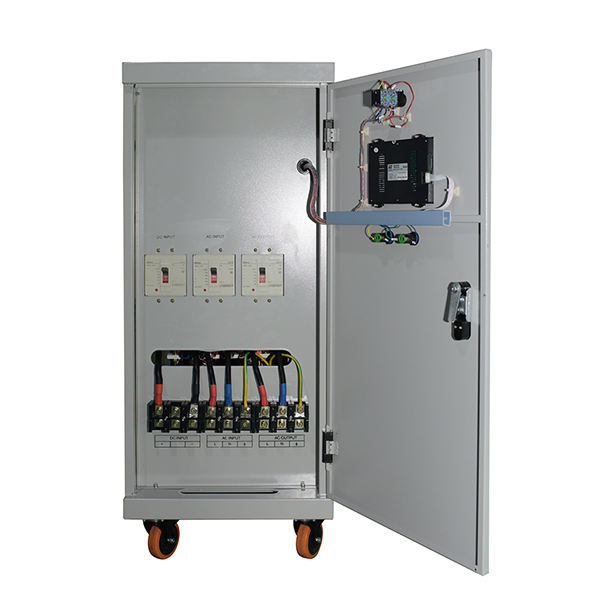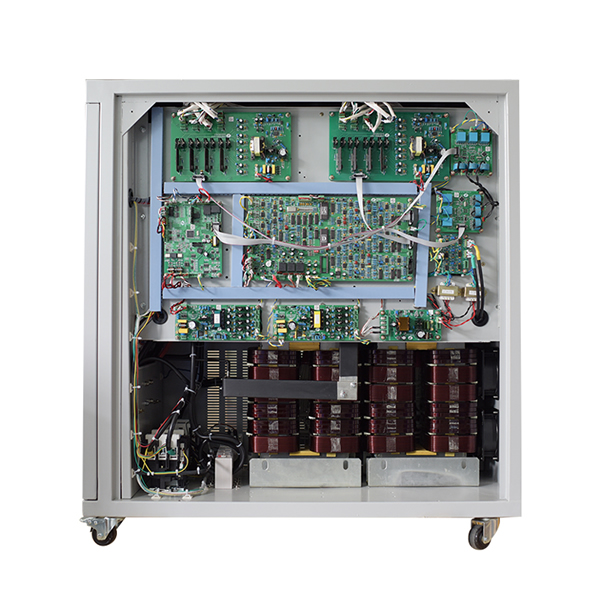 50KVA off grid single phase inverter technical parameters
Model

NB220-50KDZ

NB380-50KDZ

DC

input

Input rated voltage

220 VDC

380 VDC

Input rated current

252.5 A

146 A

Input DC voltage allowing range

180-280 VDC

350-500VDC

AC input

(AC bypass)

Allow input voltage range

110 VAC / 120 VAC / 220 VAC / 240 VAC ± 15%

Input rated current

455A / 417A / 227A /208A

Bypass transfer time

≤100 ms (4ms optional)

AC output

Rated capacity

50KVA

Output rated voltage and frequency

110 VAC / 120 VAC / 220 VAC / 240 VAC,50Hz / 60Hz

Output rated current

455A / 417A / 227A / 208A

Output voltage accuracy

110 VAC / 120 VAC / 220 VAC / 240 VAC± 2%

Output frequency accuracy

50Hz / 60Hz ± 0.05%

Wave

Pure sine wave (Isolation transformer)

THD.

≤3%(Linear load)

Overload capacity

120%,10 minutes

Overcurrent capacity

200%,10 seconds

Overload capacity

120%,3 minutes,150%,10 second

Crest factor (CF)

3:1

Inverter efficiency

>92%

Working Environment

Dielectric strength

1500VAC,1minute

Noise (1m)

≤50dB

Ambient temperature

-10℃~+50℃

Humidity

0~90%, No condensation

Altitude

<2000m

Higher than 2000m rated power should be reduced

Production function

Input reverse protection, input under-voltage protection, output overload protection, output short circuit protection, thermal protection

Communication interface

RS485/WIFI/GPRS/Ethernet (optional)

Equipped With Copper Transformer

Yes

Solar Charger

Optional

AC Charger

Optional

Generator Port

Optional

Size

660*1300*1600 mm

Weight

450 kg
100KVA off grid single phase inverter technical parameters
Model

NB220-100KDZ

NB380-100KDZ

DC

input

Input rated voltage

220 VDC

380 VDC

Input rated current

505 A

292.3A

Input DC voltage allowing range

180-280 VDC

320-500VDC

AC input

(AC bypass)

Allow input voltage range

110 VAC / 120 VAC / 220 VAC / 240 VAC ± 15%

Input rated current

909A / 833A / 455A /417A

Bypass transfer time

≤100 ms (4ms optional)

AC output

Rated capacity

100KVA

Output rated voltage and frequency

110VAC / 120VAC / 220VAC / 240VAC,50Hz / 60Hz

Output rated current

909A / 833A / 455A /417A

Output voltage accuracy

110 VAC / 120 VAC / 220 VAC / 240 VAC± 2%

Output frequency accuracy

50Hz / 60Hz ± 0.05%

Wave

Pure sine wave (Isolation transformer)

THD.

≤3%(Linear load)

Power factor (PF)

0.8

Overload capacity

120%,10 minutes

Over-current capacity

200%,10 seconds

Crest factor (CF)

3:1

Inverter efficiency

>94%

Working Environment

Dielectric strength

1500VAC,1minute

Noise (1m)

≤50dB

Ambient temperature

-10℃~+50℃

Humidity

0~90%,No condensation

Altitude

<2000m

Higher than 2000m rated power should be reduced

Production function

Input reverse protection, input under-voltage protection, output overload protection, output short circuit protection, thermal protection

Communication interface

RS485/WIFI/GPRS/Ethernet (optional)

Equipped With Copper Transformer

Yes

Solar Charger

Optional

AC Charger

Optional

Generator Port

Optional

Size

750*1500*1700 mm

Weight

620 kg